North Avenue: NOISE + vibrating.AIR was an installation and live performance created for the MEGAPOLIS AUDIO FESTIVAL in Baltimore on May 14-16. Below is a slightly modified text taken from the press release.
"Bradley's North Avenue: NOISE, a sound art installation, used the windows of the Windup Space gallery as a large tympanum that picked up the vibrations, via multiple contact mics, from the street and transmitted the audio through a series of multiple FM transmitters and receivers. Each low powered mini radio station rebroadcasts the signal to the next transmitter at 4 different frequencies over the FM dial. The final transmission is remixed into the original sound from the street windows creating a slightly off synch or "double image." Periodically, beat frequencies will emerge from the broadcast air depending on the amplitude from the streets. The final transmission saturated the airwaves on the corner of North Avenue and Charles Street, Baltimore, Maryland, with a sonic checkerboard pattern. Sound artist Jason Sloan built a live streaming web interface for the North Avenue: NOISE installation that allowed a global audience to experience the work live regardless of their geography.

On Saturday May 15th, Bradley and Sloan employed a variety of RF receivers, radios, scanners, and the live web stream from the North Avenue: Noise installation to produce a 30 minute multi-textural carpet of undulating radio-phonic sound. Through the various layers emerged radio transmissions of live and fragmented voices, glitches and hisses from the Baltimore city streets and airwaves. "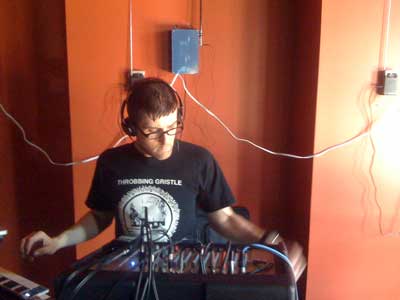 All the sounds used to create the vibrating.AIR composition were extracted live from the airwaves and processed or edited on the fly. For example, the rhythm that emerges around the 10 minute mark of the piece was created from scanner radio static. One of my favorite moments was locking into someone's home baby monitor who's dialogue became the underlying narrative for the work. I also incorporated a live NOAA transmission towards the end of the performance which acted as a unique geotag and time stamp for the work.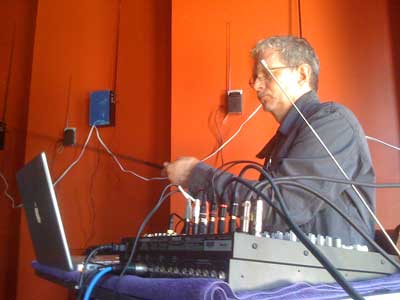 Steve and I plan on releasing a hi-resolution audio and specially packaged limited edition CD documenting the North Avenue: NOISE + vibrating.AIR project in the near future. The CD will include interviews, various excerpts from the North Avenue: Noise web stream, plus a stereo and surround mix of the vibrating.AIR performance. More information will be made available soon.
vibrating.AIR performance. May 15, 2010.
Audio clip: Adobe Flash Player (version 9 or above) is required to play this audio clip. Download the latest version here. You also need to have JavaScript enabled in your browser.
Jason.Sloan and Steve Bradley discuss North Avenue: NOISE + vibrating.AIR on Maryland Morning.
Audio clip: Adobe Flash Player (version 9 or above) is required to play this audio clip. Download the latest version here. You also need to have JavaScript enabled in your browser.