Posted on | March 21, 2010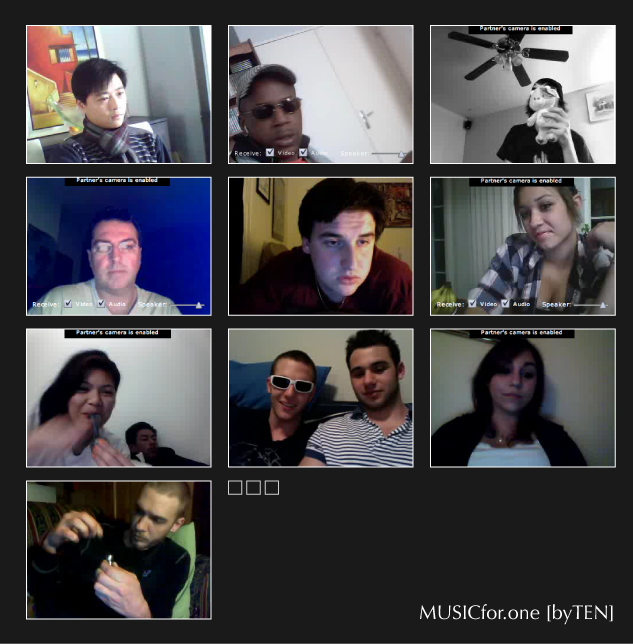 MUSICfor.one [byTEN] was a live "concert" improvisation created for the Chatroulette social network. Audio in the performance was generated from screen grabs taken of the first 10 people that appeared during a previous visit to the website. These pictures in turn became the graphic notation that loosely scores the work. Through this process I become the conductor while the anonymous Chatroulette users become the unaware orchestra. Below is documentation of the performance in two parts from the March 20th performance. The first movement resulted in a composition that was more "symphonic" than I had expected while the second movement was more textural.
In the virtual "wild west" of Chatroulette, there are few if any governing rules.  Knowing this it still came as a surprise that  I was "flagged and banned" from interacting for 10 minutes during Movement 2. Apparently, someone deemed what I was doing "inappropriate" behavior.
movement.1

movement.2

Posted on | February 28, 2010
<– visit the 1444.minutes documentation site –>
**1444 MINUTES WAS LIVE FROM FEB 2, 2010 BEGINNING AT 4:34AM
UNTIL FEB 3, 2010 AT 4:34AM [-5GMT]
*1444 minutes has recently been selected to be part of Rhizome's Art Base Collection.

Posted on | February 9, 2010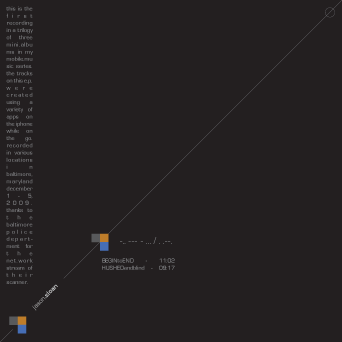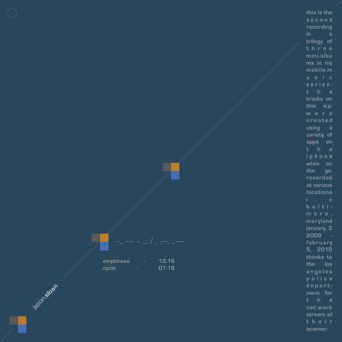 a little over a decade ago, artists and musicians began experimenting seriously with using laptops as instruments during live performances. i remember my friend matt borghi and i having long discussions about how the laptop could change how people approached live music. it's funny looking back now thinking about those conversations because at the time, it was actually pretty uncommon to see a laptop computer at a live gig. fast forward to the present and hardly anyone would bat an eye at the sight of a computer or a variety of mobile devices on stage with musicians. software equivalents of analog gear that would have taken an army to move now easily fit onto a portable hard.drive and go just about anywhere. the studio has gotten smaller and compact while at the same time, way more powerful. what excites me about emerging technologies are how they allow artists to be creative just about anywhere and at anytime.
over the past year i've been using a variety of sound apps on the iphone during some of my live performances. a few days ago, i decided to attempt  creating a series of works that used only the iphone as the sole sound source.
what resulted is the "mobile.music" trilogy series. each release will run between 20-25 minutes and be available as a download only.  AVAILABLE in the store section of jasonsloan.com.
[e.p.1] released 12/12/09
BEGINtoEND [50 second excerpt]
Audio clip: Adobe Flash Player (version 9 or above) is required to play this audio clip. Download the latest version here. You also need to have JavaScript enabled in your browser.
HUSHEDandblind [50 second excerpt]
Audio clip: Adobe Flash Player (version 9 or above) is required to play this audio clip. Download the latest version here. You also need to have JavaScript enabled in your browser.
[e.p.2] released 02/12/09
.emptiness [50 second excerpt]
Audio clip: Adobe Flash Player (version 9 or above) is required to play this audio clip. Download the latest version here. You also need to have JavaScript enabled in your browser.
.cycle [50 second excerpt]
Audio clip: Adobe Flash Player (version 9 or above) is required to play this audio clip. Download the latest version here. You also need to have JavaScript enabled in your browser.
[e.p.3] release date: TBA
Posted on | December 1, 2009
Images from the November 22, 2009 radio concert on WXPN FM's Star's End program. Philidelphia, PA
photo credits l-r: 1-3: soma611 4: kathy jeffries

Posted on | October 10, 2009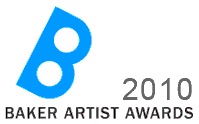 I'll admit I have mixed feelings about these awards. But I always throw myself into the mix anyway. As an artist that works with technology, financially it's a constant struggle to keep hardware and software needed for my studio practice and live performances up to date. Technology now allows artists to quickly distribute work and information in the blink of an eye, but unfortunately the methods of creation and distribution change just as rapidly. Baltimore is fortunate to have our annual Baker Artist Awards which grant three working artists a $25,000 prize for their creative practice. If you have a moment to vote, I would truly appreciate your consideration. Below are links to my artist nomination and to the Baker homepage.
• Jason's Nomination Page
• Baker Artist Awards Homepage
« go back
—
keep looking »