Posted on | December 21, 2010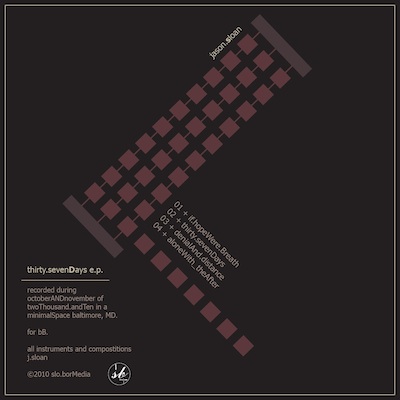 I'm happy to announce the release of my new e.p. thirty.sevenDAYS. Recorded this past October and November, these works were created in reaction to social observations and personal experiences I had throughout the month of October. Clocking in at around 32 minutes, thirty.sevenDAYS is a contemplative release capturing some of the mood and psychology found in my earlier albums from close to a decade ago. Blending lush and ambient atmospheres with minimal electronic, chiptune experimentation; thirty.sevenDAYS has turned out to be one of my most personally satisfying moments as a electronic musician and soundArtist.
thirty.sevenDAYS was released on December 27, 2010. It's now available through all good digital music outlets including the iTunes Store, eMusic, Amazon, Rhapsody and many other services. In addition to these retailers, thirty.sevenDAYS will also be available for purchase directly though the store at jasonsloan.com.
thirty.sevenDAYS e.p. [digital only release]
60 second track previews below – low bitRate
01. if.hopeWere.Breath – 5'36"
Audio clip: Adobe Flash Player (version 9 or above) is required to play this audio clip. Download the latest version here. You also need to have JavaScript enabled in your browser.

02. thirtySeven.days – 6'23"
Audio clip: Adobe Flash Player (version 9 or above) is required to play this audio clip. Download the latest version here. You also need to have JavaScript enabled in your browser.

03. denialAnd.distance – 7'50"
Audio clip: Adobe Flash Player (version 9 or above) is required to play this audio clip. Download the latest version here. You also need to have JavaScript enabled in your browser.

04. aloneWith_theAfter – 12'28"
Audio clip: Adobe Flash Player (version 9 or above) is required to play this audio clip. Download the latest version here. You also need to have JavaScript enabled in your browser.
Comments