RADIO CONCERT(S)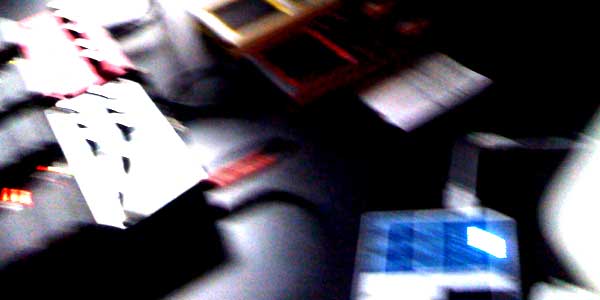 This radio concert was broadcast live from my studio in Baltimore on Stillstream Ambient Radio on the evening of June 27, 2009 from 10:30pm -11:25pm. I'm particularly proud of this performance. I personally feel it captures the breadth of my sonic exploration over the past decade in addition to the energy I strive for in my live sets. i hope you enjoy listening as much as i did performing it.
Audio clip: Adobe Flash Player (version 9 or above) is required to play this audio clip. Download the latest version here. You also need to have JavaScript enabled in your browser.
SET LIST
/*TRANSMISSION.cloud
/*ALONG.overhead
[interlude]
/*BREATHING.water
[interlude]
/*COLORBLIND.autumn
[interlude]
/*WHITE.datascape
[interlude]
/*BURNING.ground
[interlude]
/*SEQUENCE.toheaven
*All of the music in this performance was created specifically for this concert.
+ SAMPLES OF WORK PRODUCED BETWEEN 1998 – 2009 +
.RELEASED MATERAL
2008
ENDING [light] [from the album ENDING LIGHT disc 2]
Audio clip: Adobe Flash Player (version 9 or above) is required to play this audio clip. Download the latest version here. You also need to have JavaScript enabled in your browser.
2006
brokenSKIN [from the album hymns.fortheafterlife]
Audio clip: Adobe Flash Player (version 9 or above) is required to play this audio clip. Download the latest version here. You also need to have JavaScript enabled in your browser.
2005
light [from the album a white, bleeding silence]
Audio clip: Adobe Flash Player (version 9 or above) is required to play this audio clip. Download the latest version here. You also need to have JavaScript enabled in your browser.
2004
the color of wind i. [from the album still]
Audio clip: Adobe Flash Player (version 9 or above) is required to play this audio clip. Download the latest version here. You also need to have JavaScript enabled in your browser.
2003
silence behind the horizon [from the album shoreline of an end]
Audio clip: Adobe Flash Player (version 9 or above) is required to play this audio clip. Download the latest version here. You also need to have JavaScript enabled in your browser.

.UNRELEASED MATERIAL

2009
theme.FORsunday demo from forth coming 2010 album
Audio clip: Adobe Flash Player (version 9 or above) is required to play this audio clip. Download the latest version here. You also need to have JavaScript enabled in your browser.
2008
demo material created during the ENDING [light] sessions
Audio clip: Adobe Flash Player (version 9 or above) is required to play this audio clip. Download the latest version here. You also need to have JavaScript enabled in your browser.
between [bridging.planes] from the ENDING [light] sessions
Audio clip: Adobe Flash Player (version 9 or above) is required to play this audio clip. Download the latest version here. You also need to have JavaScript enabled in your browser.
.resonance commissioned work for the reflection/resonance performance
Audio clip: Adobe Flash Player (version 9 or above) is required to play this audio clip. Download the latest version here. You also need to have JavaScript enabled in your browser.
excerpt from the GATHERINGS CONCERT SERIES april 17, 2008.
Audio clip: Adobe Flash Player (version 9 or above) is required to play this audio clip. Download the latest version here. You also need to have JavaScript enabled in your browser.

.DOLMEN [JASON.SLOAN & STEVEN K. SMITH]

2008
lost at the beginning [from the album incantations verse ii.]
Audio clip: Adobe Flash Player (version 9 or above) is required to play this audio clip. Download the latest version here. You also need to have JavaScript enabled in your browser.
the colored wound of autumn [from the album incantations verse i.]
Audio clip: Adobe Flash Player (version 9 or above) is required to play this audio clip. Download the latest version here. You also need to have JavaScript enabled in your browser.
2005
love tonight today [from the album terra firma]
Audio clip: Adobe Flash Player (version 9 or above) is required to play this audio clip. Download the latest version here. You also need to have JavaScript enabled in your browser.
2004
efland::cuairteach [from the album ritual awakening]
Audio clip: Adobe Flash Player (version 9 or above) is required to play this audio clip. Download the latest version here. You also need to have JavaScript enabled in your browser.