Posted on | October 3, 2012

I'm happy to now announce that a good portion of my discography from over the past decade is now available for purchase through Bandcamp. For audiophiles Bandcamp is a great choice because they offer albums in just about every possible format including including MP3 (320, VBR V0), Ogg Vorbis, Apple Lossless, FLAC and AAC. Keep in mind that Bandcamp is just being added to list of usual digital stores (iTunes, eMusic, Amazon, Rdio, etc.) where my work can be legally purchased or streamed.
You can access my Bandcamp page at: http://jasonsloan.bandcamp.com
Posted on | July 4, 2012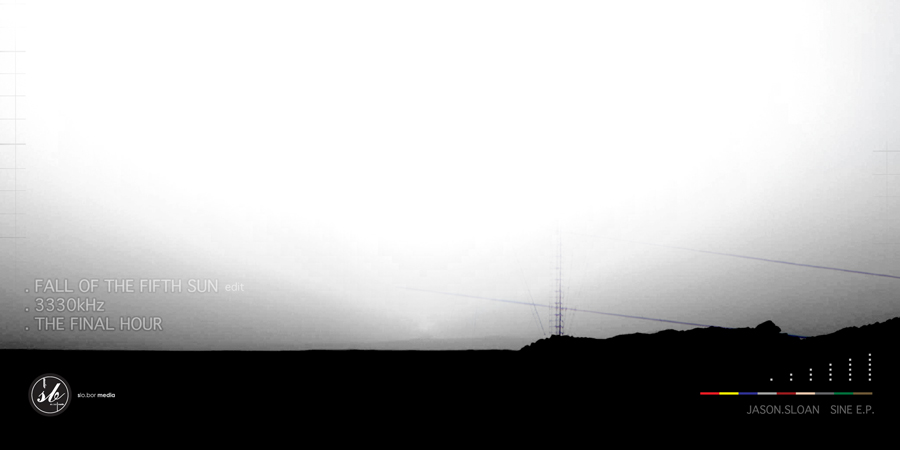 I'm excited to announce two new solo releases:
The Sine E.P. is now available as a digital only release. This E.P. contains the lead "single" and title track from the upcoming Fall of the Fifth Sun album plus two exclusive tracks from those recording sessions. The E.P.s closing 13 minute track The Final Hour turned out to be one of my personal favorites from these sessions.
You can purchase the Sine E.P. directly from the store section of this website in addition to all good digital stores.
BUY THE SINE E.P.[jason.sloan.com] [iTunes] [eMusic] [Amazon]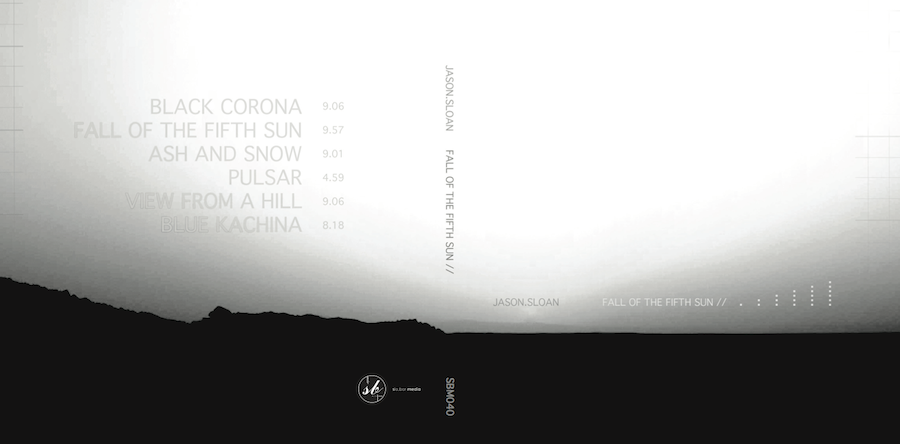 My 15th solo album Fall of the Fifth Sun, is now officially available. The album will be available to purchase in hard copy CD format by mid September or now as a download at all the major digital outlets and through the store section of my site.
The majority of material on these recordings was conceived during the multiple live concerts I gave throughout 2011 and early 2012. These song sketches were reworked and then recorded in the studio over the past year.
While still sonically similar to my last few albums, FOTFS & the Sine E.P. were created with only hardware. Going into these sessions, I wanted to create works that had an edge and felt fresh, but also an essence of nostalgia for the classic electronic music of the 70's and 80's, so hardware was the only way to go. Equipment used to create this album: Roland SH-101, Korg Poly-800, DSI Mopho, Juno-60, Yamaha DX7, Korg Monotribes, Roland TR-606, Alesis Wedge, Boss CE-3, Steinberger GL and Fender Stratocaster guitars.
Fall of the Fifth Sun has a 56 minute running time and will be packaged in a gatefold wallet style sleeve.
BUY FALL OF THE FIFTH SUN [jasonsloan.com] [iTunes] [eMusic] [amazon.com]
Track Listing:
Black Corona / Fall of the Fifth Sun / Ash and Snow / Pulsar / View from a Hill / Blue Kachina
16 minute album preview:
Audio clip: Adobe Flash Player (version 9 or above) is required to play this audio clip. Download the latest version here. You also need to have JavaScript enabled in your browser.
Posted on | April 15, 2012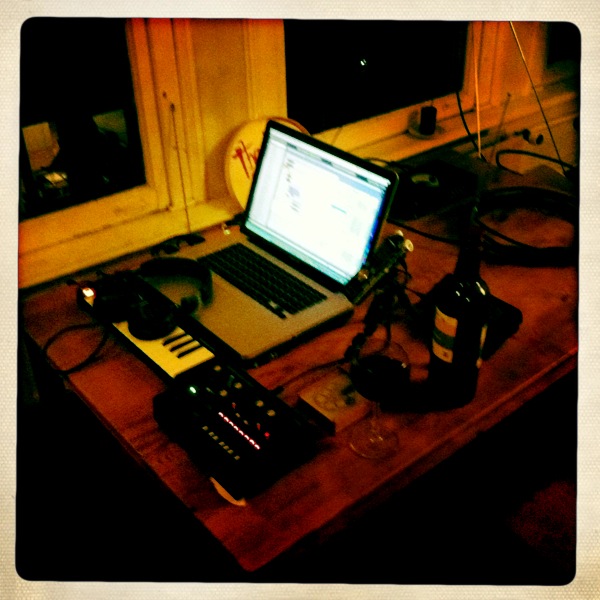 Last month while during a 10 day residency at STEIM [STudio for Electro Instrumental Music] I created a body of improvised sound works of varying duration. These concerts were performed live during the day and night on the FM band throughout the city. Because the documentation was recorded directly from the receiver, any static or interference captured, although not necessarily planned, was intentional and became part of the final documented work. More clips will be posted in the near future. Below is a a full concert as heard live on 97.1MHz FM the evening of March 14, 2012.
Broadcast live on 97.1MHz FM Amsterdam.
I. Rembrandtplein
II. Utrechtsestraat Shining
III. Black Light (for Peter Christopherson)
Audio clip: Adobe Flash Player (version 9 or above) is required to play this audio clip. Download the latest version here. You also need to have JavaScript enabled in your browser.
Posted on | January 29, 2012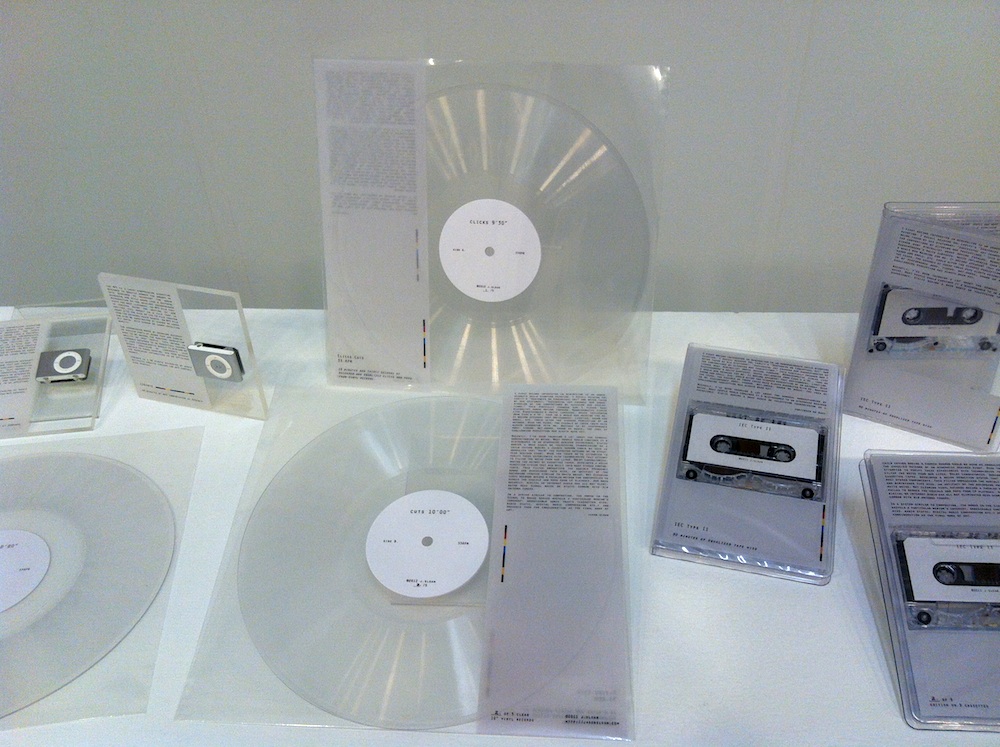 About signal.toNoise:
I first became interested in minimalism as an undergraduate while studying painting. I recall reading Sol LeWitt's "Sentences on Conceptual Art" and being taken by his statement: "Successful art changes our understanding of the conventions by altering our perceptions." This radically changed how I viewed many minimalist works moving forward. Monochromatic pieces like Rauschenberg's white canvases, which influenced John Cage's 4'33", took on a whole new meaning for me. It became apparent that environment, lighting, sound and smell, etc. could alter the viewers perception of an artwork. Over the years, the essence of these ideas have always resonated with me. Whether in my performance work, videos, net.works, sound or music, the idea of challenging perception has always been key.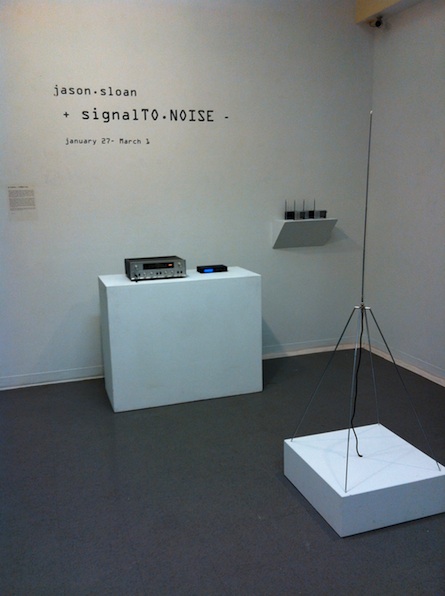 Recently, I've been thinking a lot about the general understanding of noise. Most people would consider it a distrubance to an otherwise desired experience. Static during a weak radio or television transmission or a child crying during a church sermon could be seen as anomalies that "ruin" the expected outcome of an otherwise desired event. Over the years we've attempted to purify these experiences with technologies that attempt to filter the noise from our lives. Dolby Laboratories, during the heyday of cassettes tapes, developed a noise reduction system that was built into most stereo compontents. This filter emphasized the audible frequency range and diminished tape hiss, an artifact of the recording process similar to white noise. Wet cleaning vinyl records became a popular method for audiophiles to reduce the crackle and pops from LP playback. And more recently, digital or internet radio has all but eliminated weak signal noise or static common with old antenna tuners.
In a system similar to composting, the works in the Signal To Noise series recycle a particular medium's inherent, undesirable sonic traits (cassettes hiss, radio static, digital music compression etc.) and presents them for consideration as the final work of art.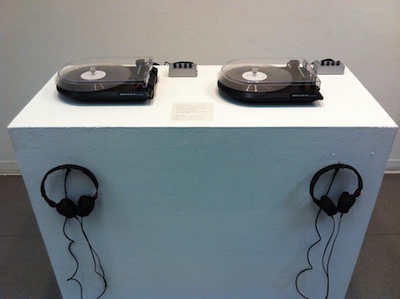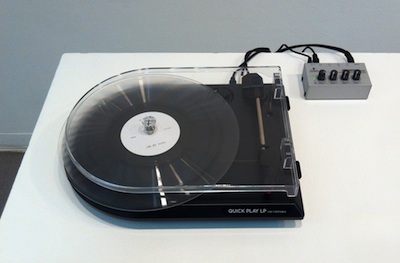 Clicks and Cuts:
20 minutes of equalized record clicks and pops pressed back onto 10″ clear vinyl records.
Edition of 5 albums.

IEC Type II:
C-90 Type II. cassette tape.
45 minutes of equalized tape hiss per side.
Edition of 9 cassettes.

128kbps:
40 minutes of isolated mp3 compression.
Edition of 4 iPods containing the mp3 file.
Presented on Apple mini's for the exhibition.
whiteOut:
FM broadcast.
Live FM tuner static being rebroadcast in full stereo on 93.5 MHz FM over an approximate
distance of 4-5 miles.
Audio clip: Adobe Flash Player (version 9 or above) is required to play this audio clip. Download the latest version here. You also need to have JavaScript enabled in your browser.

– jason.sloan discussing the signalTo.noise series on Baltimore's NPR affiliate WYPR. Original air date 1/27/12 -1/28/12
– Review of Signal To Noise at Disquiet
The signal.toNoise exhibition will be on view Friday, Jan. 27 through Sunday, March 11 at the Maryland Institute College of Art. Pinkard Gallery (1401 W. Mount Royal Ave.). A reception will be held on Friday, Jan. 27, 5-7 p.m.

Posted on | November 13, 2011


The folks over at Hypnagogue have written a wonderful review of my newest album (s)END. Head over and check it out. READ REVIEW
« go back
—
keep looking »