Posted on | June 12, 2009
Death [of Analog]
October 2, 1925 – June 12, 2009
84min [18min excerpt]

A dead analog television signal was broadcast live online at jasonsloan.com the morning of Thursday June 12, 2009 from 12:00am – 1:24am [EST].

Posted on | June 1, 2009
a new review of the final dolmen albums incantations: verse one & verse two. dolmen has been an ethno-ambient side project of mine for the last eight years with cleveland based artist steven k. smith.
both of these discs are available for purchase both as download or tactile cd in my store. they are also available in all good digital retailers like itunes, emusic, amazon, rhapsody etc.
– – – – –
…"this is a Hypnagogue Highly Recommended CD. In fact, it's more than that. It's a disk I will absolutely insist you should not go without. Experience this music. Succumb to it." – Hypnagogue

"I found out about Dolmen–the duo of Jason Sloan and Stephen Smith–late. Late as in this, their final album together. And now I need to go back and find everything they've done. Because the power and imagery that drives this two-disk set quite frankly stunned me. Too strong? Not at all. Incantations Verse: One and Verse: Two are built on dark, dense guitar-based drones and clashing, unapologetic noise paired up with aggressive tribal rhythms and longform drifts carved from shadow. These disks seethe with a sense of the ritualistic, an irresistible calling to a sensually dark and potentially dangerous place inside of ourselves. Mesmerizing, challenging and, in the end, compelling stuff that makes for one of the best offerings of the year. Disk one rises out the drum-and-static genesis of "Christ's Burnt Monolith," to immediately sets the listener on notice that this will not be a simple ride. "Calling Our Dead Ones Home" builds on the driving percussion that underlies much of the work here, a pulse that's so integral that when the beat drops out, it's like something's been taken from you. That's the kind of draw the disk has–this is music that hits you on a personal level because it's connecting to some unspoken thing that you understand. "Exile from Purgatory" drifts by uneasily before hiding itself in dark noise. Feedback and rhtythm empower "Forgotten Ritual" as distorted vocal samples curl around the sound, demonstrating how well Sloan and Smith balance infectious rhythms and beats with storms of dense sound. Melodies struggle against the sound, aching to be known. It's like hearing a secret message in the sound. "Signal Lights" is a short, comparatively calm respite of soft pads leading into the grimmer feel of "Colored Wound of Autumn." In "Residual Haunting II" a rising beat and chanting vocal sample give way to the repeated muffled voice of a young girl. It's like being witness to an arcane calling, and it's hypnotic stuff. Verse: One ends with "A Past Life Reconstructed," a 15-minute excursion where that beat-beneath-noise concept hits its stride, building itself in layers as Sloan's guitar muscles its way forward, twisting itself around Smith's airy swirls. And at the 8-minute mark, it just cuts loose with a sense of grim ecstasy–the culmination of the first incantation. And that's just half of the ride…"
read the full review at: hypnagogue
Posted on | May 27, 2009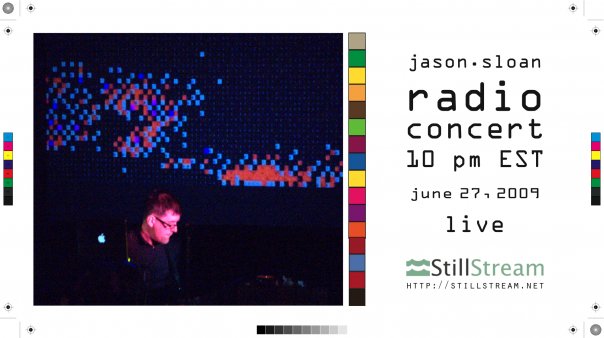 FROM STILLSTREAM'S SITE:
Please join us Saturday June 27th for a special edition of Zen Caffeine, with a live concert by none other than electronic, ambient maestro jason.sloan. Jason returns to StillStream to give us another brilliant live electronic ambient performance. If you missed him last time, do yourself a favor and pencil in this date – his live sets are not to be missed!
LISTEN AT STILLSTREAM.COM OR LOOK FOR STILLSTREAM AMBIENT RADIO IN YOUR ITUNES RADIO STREAMS/DIRECTORY UNDER "AMBIENT"
Posted on | May 19, 2009
here are some photos from the april 18, 2009 concert i played at THE GATHERINGS SERIES in philadelphia, pennsylvania.
also performing that evening was electronic music guru saul stokes.
photos by jeff towne
Posted on | April 20, 2009
"…sparking then smoldering, this album plays out across an ever-changing landscape – and deserves praise for aiming so high." [read the full review here]
– Chuck van Zyl – Star's End Radio,  April 2009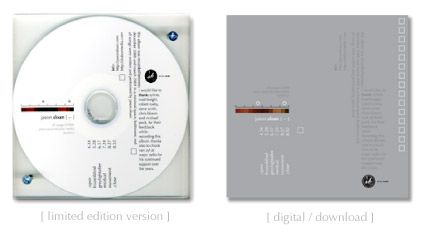 i'm very pleased to announce the release of the follow up to last years double album ENDING [light]. the fall and winter months proved to be rather fruitful in the studio, culminating in the release of [ — ].
[ — ] had a pre-release at the GATHERINGS concert i played with SAUL STOKES on saturday april 18, 2009 in Philadelphia, PA. i took around 50 of the 100 copies and they quickly sold out.
the limited edition version is signed and numbered with the disc housed between two 1/4″ pieces of perspex. once the limited run has expired, [ — ] will be sold as an unlimited standard jewel boxed edition.
if you would like a copy of the limited edition, head over to the store section of this site and click on the LIMITED EDITIONS tab. you will find [ — ] at the bottom of the page. as with most SLO.BOR MEDIA limited editions, this first run will no doubt sell out quickly.
as with most of my releases, [ — ] is also be available as a download through the store section of this site in addition to the usual digital outlets [ie: itunes, emusic, amazon, rhapsody, etc.)
LISTEN TO SAMPLES FROM [ — ]
.open
Audio clip: Adobe Flash Player (version 9 or above) is required to play this audio clip. Download the latest version here. You also need to have JavaScript enabled in your browser.
frozenblind
Audio clip: Adobe Flash Player (version 9 or above) is required to play this audio clip. Download the latest version here. You also need to have JavaScript enabled in your browser.
greylightafter
Audio clip: Adobe Flash Player (version 9 or above) is required to play this audio clip. Download the latest version here. You also need to have JavaScript enabled in your browser.
residual
Audio clip: Adobe Flash Player (version 9 or above) is required to play this audio clip. Download the latest version here. You also need to have JavaScript enabled in your browser.
movement
Audio clip: Adobe Flash Player (version 9 or above) is required to play this audio clip. Download the latest version here. You also need to have JavaScript enabled in your browser.
.close
Audio clip: Adobe Flash Player (version 9 or above) is required to play this audio clip. Download the latest version here. You also need to have JavaScript enabled in your browser.
« go back