Posted on | January 28, 2013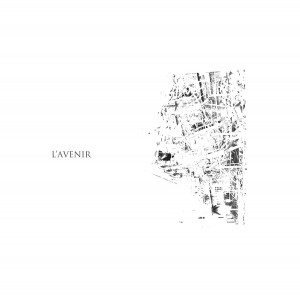 2012 was a busy year with a lot of projects! I completed a good chunk of work in my ongoing Whiteout series, released two new solo works, Fall of the Fifth Sun and the Sine e.p., in addition to participating in numerous international exhibitions and playing a number of live concerts. In the early part of 2012 I started working on material for a new side project called L'Avenir. If you're familiar with the numerous instrumental ambient albums I've released under my own name for the last decade and a half, this new side project is quite a bit different. Over the past 4 years, I've noticed my own solo work drifting away from its ambient and space music origins and moving into the realm of a traditionally structured music. While still retaining atmosphere and ambience, these albums [Corrupted Horizon, [–], Fall of the Fifth Sun, etc.] have approached more of a formal song structure than my past recordings have. So finally, this past year I decided to take the leap and start a new project that truly embraces this format, which includes lyrics and vocals.
The music of L'Avenir is rooted in the tradition of the minimal, analog, synthesizer music of the late 70's and early 80's ala Fad Gadget, Solid Space, Depeche, D.A.F. etc. In the mid 2000's this genre of music, which has since been coined "Minimal Wave" by Veronica Vasicka, has seen a revival in the underground music scenes in the States and abroad. Having grown up in the 70's and 80's as a huge fan of synthpop and darker 80′s electronic music myself, a diversion down this path makes sense to me within the context of where my music has been headed over the past few years. Also, by channeling the exploration of structure into the L'Avenir project, I'm equally as excited to begin experimenting with pure electronic space again through future releases under my own name.
At the moment I'm seeking a good home to release L'Avenir's completed debut album In Collapsing Silence. More information about the release will be made available soon. In the meantime, check out the micro site I've built for this new side project which also features a couple cuts from the upcoming debut:
L'Avenir Micro Site: http://l-avenir.us
Comments